Cinco de Mayo commemorates the 1862 victory of Mexico's army 1862 over France at the Battle of Puebla. This minor Mexican holiday has become an important celebration of Mexican culture and heritage in the United States. Join in the fun with one of our many Cinco de Mayo crafts and recipes for kids.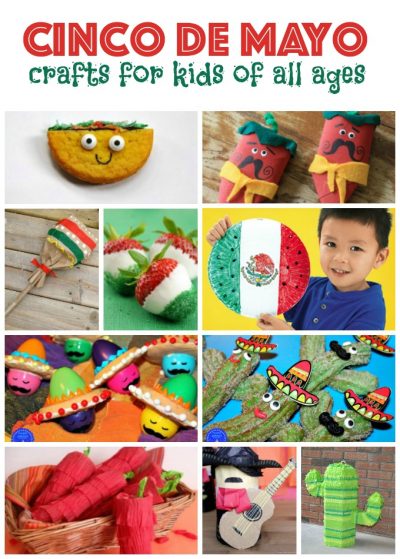 Here are 10 of our favorite projects for Cinco de Mayo. You can see all 30+ crafts here.
Cinco de Mayo Crafts and Recipes
1. Paper Bag Maracas – These fun and easy maracas start with brown paper bags. Decorate them with the colors of the Mexican flag, then add rice and a handle and you're ready to start shaking.
2. Cinco de Mayo Strawberries – These decorated strawberries are so easy to make and taste delicious. Plus, May is National Strawberry Month so they are doubly festive!
3. Sombrero Hat Egghead Cookies – Transform the leftover plastic eggs from Easter into these adorable slumbering eggheads. Each is wearing a beautifully decorated (and delicious!) sombrero cookie.
4. Mini Chili Pepper Piñatas – Make your fiesta extra special with these fabulous mini chili pepper piñatas. They're filled with Hot Tamales to spice up your celebration.
5. Cinco de Mayo Shakers – This noisemaker starts with a pair of paper plates and features the flag of Mexico. It's a great project for a group because it is easy to make and inexpensive.
6. Cactus Churros – Dye churro batter green and fry them to look like cacti. This tasty treat is ideal for Cinco de Mayo or any fiesta.
7. Mini Piñata Mariachi – Turn an empty cardboard tube and some cardboard scraps into a fabulous mariachi. This mini piñata has candy hidden inside!
8. Taco Cookies – These may look like tasty tacos, but they're actually cookies! They're lots of fun to make and couldn't be easier.
9. Cardboard Tube Chili Pepper Maracas – Turn empty cardboard tubes into colorful chili pepper maracas for Cinco de Mayo. They have so much personality!
10. Cactus Piñata – Make your Cinco de Mayo fiesta even more festive with this cactus piñata. Everyone will love it!
Be sure to check out all of our Cinco de Mayo craft tutorials here.