'Tis the season for Christmas trees! Get in the holiday spirit with one (or more!) of our fabulous Christmas tree crafts for kids. You'll find over 110 projects for kids of all ages and skill levels. Many of these crafts are just as fun for adults, so make your December crafting a family affair.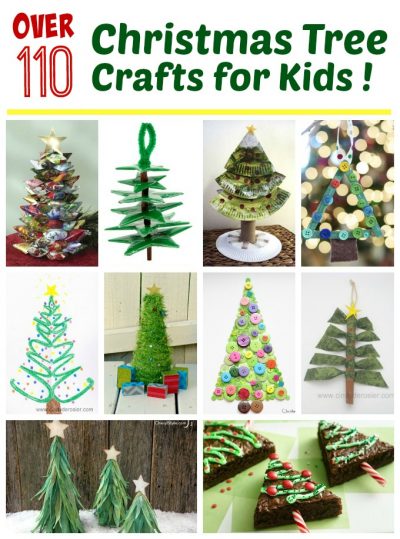 Christmas Tree Crafts for Kids
Here are 10 of our favorite Christmas tree crafts for kids. Be sure to check out all the Christmas tree crafts here.
1. Cinnamon Stick Christmas Tree – Cinnamon sticks and fabric scraps make a wonderful ornament that smells incredible! It's easy to make in under five minutes.
2. Cornhusk Christmas Trees – Dyed cornhusks make gorgeous Christmas trees! What a fun and clever way to repurpose fall decorations into winter ones.
3. Popsicle Stick Christmas Tree Ornament – This charming ornament is made from popsicle sticks, paint, felt and buttons. It's easy to make and something you'll cherish for years.
4. Paper Plate Christmas Tree – Turn paper plates and a cardboard tube into a festive Christmas tree! This fun recycling project is great for kids of all ages.
5. Christmas Tree Brownies – Brownies that look like decorated Christmas trees with candy cane trunks? Yes, please! These are as fun to eat as they are to make.
6. Mini Light Up Christmas Tree – Transform a styrofoam cone, some lights and eyelash yarn into an incredible mini light-up Christmas tree. This is a great project for the whole family to do together.
7. Duct Tape Christmas Tree – Cardboard, duct tape, a straw and pipe cleaner come together in this whimsical ornament. Make it as big or as small as you want.
8. Christmas Tree Name Art – Turn your name into a Christmas tree! This project requires just paper and crayons, so it's easy to do in a classroom setting, while traveling, or even while waiting at a restaurant or doctor's office.
9. Christmas Card Tree – Don't recycle Christmas cards once the season has passed! Last year's Christmas cards can become this year's eye-catching centerpiece.
10. Button Christmas Tree – Buttons, buttons and more buttons become a beautiful, dimensional Christmas tree. Kids of all ages can help make this cool piece of art.
Be sure to see the rest of our Christmas tree crafts for kids. Happy crafting!