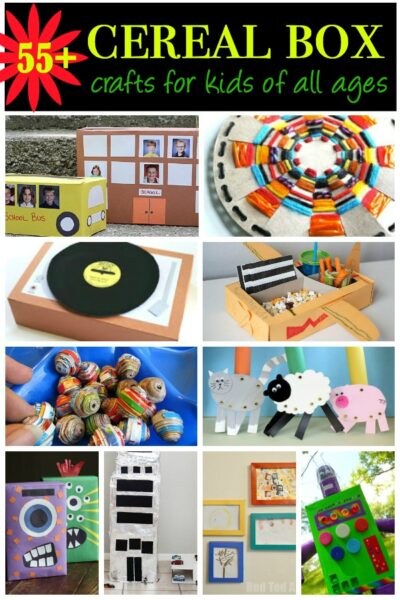 Wondering what to do with that empty cereal box? Don't just toss it in the recycle bin. Instead, browse through the 55+ ideas we have for fun, kid-friendly cereal box crafts! We've listed ten of our favorites below.
Cereal Box Crafts
1. Colorful Monsters – You only need a few basic supplies to turn empty cereal boxes into fabulous monsters. Make them as fierce or friendly as you want!
2. Recycled Beads – Turn empty cereal boxes into colorful beads, then string them to make keychains, bracelets, necklaces, garlands, or anything else you can dream up.
3. Walking Animal Puppets – If you have cereal boxes, paint, and a cardboard tube, you can make a whole bunch of animal puppets that can walk, sit, or jump!
4. Recycled Robot – Dig through the recycling bin for all the materials you need to make your own Recycled Robot. There's so much room for creativity!
5. Cereal Box Record Player – Decorate an empty cereal box to look just like a record player, then hide a bluetooth speaker inside so it sounds like it is actually playing. Great for parties!
6. Tissue Box School Bus and Cereal Box School – A cereal box becomes a school and a tissue box transforms into a school bus with this fun, kid-friendly craft.
7. Cardboard Skyscraper and Parking Garage – Raid the recycle bin to make an epic cardboard skyscraper and parking garage. The kids will play for hours!
8. Woven Cereal Box Sun – Who would ever guess that this beautiful woven sun started with an ordinary cereal box? Give it a try!
9. Airplane Movie Snack Tray – Keep movie snacks neat and contained with this clever snack tray shaped like an airplane. It's fun for picnics, too!
10. Cereal Box Picture Frames – Display preschoolers' art projects in picture frames they make themselves. They'll be so proud of their gallery wall.
Be sure to check out the rest of the cereal box crafts for even more fun ideas!