With their beautiful and symmetric colors and patterns, butterflies are a favorite for crafters of all ages, but they are particularly popular with kids. With over 100 kid-friendly tutorials on our site, you're sure to find butterfly crafts and recipes you'll love! Below are ten of our favorites.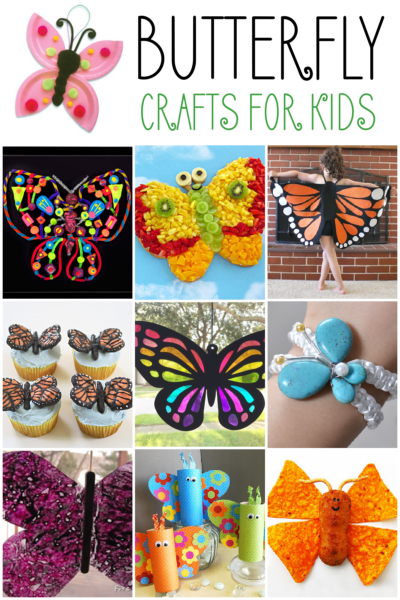 Butterfly Crafts and Recipes
1. Abstract Butterfly – Use pipe cleaners and clay to make a butterfly that mimics the distinctive geometric style of artist Alexander Calder.
2. Pretzel Monarch Butterflies – These pretty monarch butterfly cupcake toppers start with pretzels and taste delicious!
3. Colorful Cardboard Tube Butterflies – Cardboard tubes and colorful paper come together to make these pretty springtime butterflies.
4. Paper Plate Butterfly – Even young crafters can make this pretty butterfly using a paper plate and pom poms.
5. Butterfly Fruit Pizza – Decorate a fruit pizza to look like a butterfly. This giant cookie is such a yummy dessert!
6. Felt Monarch Butterfly Wings – These monarch butterfly wings are surprisingly simple to make and perfect for Halloween or creative play.
7. Melted Crayon Butterflies – Put broken crayons to use by turning them into beautiful butterflies!
8. Butterfly Sun Catchers – These bright butterfly sun catchers get their vivid colors from recycled plastic packaging, clear glue and water-based markers.
9. Braided Butterfly Bracelet – Follow the steps to make a beaded and braided butterfly bracelet.
10. Chicken and Chips Butterfly – Make lunch special with nacho cheese corn chips and chicken tenders turned into butterflies!
Don't forget to check out the rest of the 100+ butterfly crafts and recipes you'll find at Fun Family Crafts!