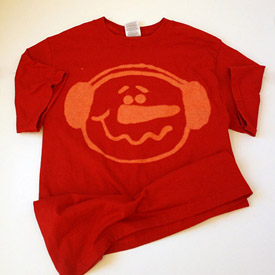 Bleach Pen Snowman T-shirt
Who knew laundry supplies could be so much fun? Celebrate the winter season with your very own snowman shirt. This adorable shirt is easy to do and makes a great gift.
What you'll need:
Colored t-shirt
Bleach gel pen
Piece of cardboard or foam core board
Rubber gloves
Laundry detergent
How to make it:
Place cardboard or foam core board inside the shirt and place shirt on the work surface. Put rubber gloves on and use the bleach gel pen to draw your snowman design. Use the pattern, or make your own design!
Allow the bleach gel to dry completely. It's best to leave it overnight.
When the bleach gel has dried, remove the cardboard from inside the shirt. With rubber gloves on, rinse all of the residue off with lukewarm water.
When all the bleach is rinsed out, add a tablespoon of laundry detergent to give it a quick hand wash. Rinse it out completely and wring out the excess water. Toss your clean snowman shirt in the dryer. When dry, your shirt is ready to be worn!
Helpful Tip:
Wearing rubber gloves will keep your hands from coming in contact with the bleach. If you get any bleach on your skin, rinse it off right away and wash with mild soap to avoid irritation.
This project was created by Amanda Formaro, originally for Kaboose/Spoonful.