Apple crafts are great for many different times of year, including Johnny Appleseed Day in March, Teacher Appreciation in May, and Rosh Hashanah in September. Apples are a symbol of autumn and are associated with Back-to-School time as well. At Fun Family Crafts, we have over 75 apple crafts and recipes for the kids for you to enjoy any time of year! Below are ten of our favorites.
Apple Crafts and Recipes
1. Apple Painted Can – Paint a can to look like an apple and fill it with treats for a special teacher. He or she will love it!
2. Chalk Pastel Apple – Use chalk pastels to add realistic shadows and highlights to this lovely apple project.
3. Paper Plate Apple – Turn a paper plate into an apple with this fun sponge painting activity that's perfect for young crafters.
4. Cardboard Tube Apple Core – Take cardboard tubes and cupcake liners to make an orchard's worth of apple cores.
5. Gourmet Apple Cookies – The only thing more fun than an apple cookie on a stick is when you decorate your cookie with yummy toppings!
6. Paper Plate Apple – Put old magazines to use and make this colorful apple bunting to decorate for fall.
7. Paper Plate Apple – These apples are made with tissue paper and liquid starch. This is a great use for tissue paper that is too ripped or wrinkled to reuse for gift wrap.
8. Paper Plate Apple – Turn plastic bottles into apples that can hold treats or even small gifts. What a fun and creative recycling project!
9. Paper Plate Apple – Follow the directions to sew this cute little felt apple project, or simply use glue for a no-sew option.
10. Paper Plate Apple – Create beautiful 3-D apples from paper, adhesive, and twigs. They make a wonderful decoration for fall.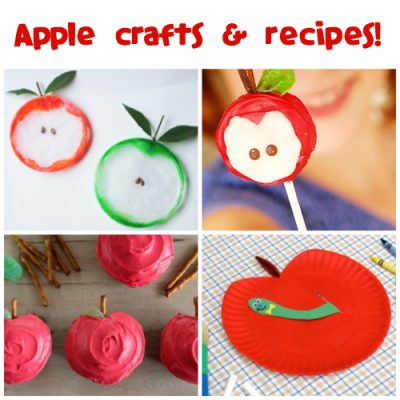 Don't forget to check out all 75+ apple crafts and recipes at Fun Family Crafts!