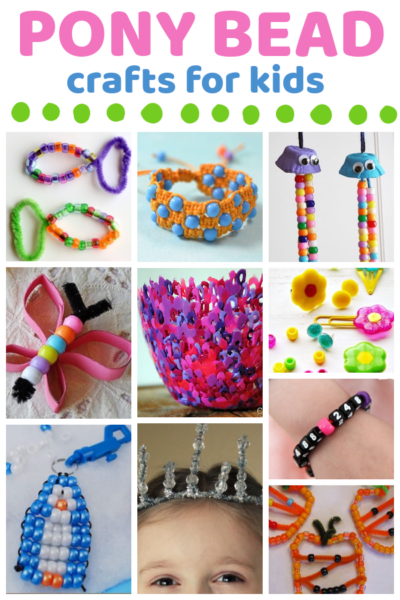 Kids have been making pony bead crafts for many, many years. According to one source, pony beads got their name because they were originally delivered via the Pony Express. Of course, back then they were still made of glass. I don't know when pony beads went from glass to plastic, but what I do know is that you can buy them inexpensively, in lots of different colors and textures, and you can make all sorts of things from them! String them onto pipe cleaners and yarn to make animals, jewelry, wind chimes and so much more. Here are ten of our favorites.
Pony Bead Crafts for Kids
1. Pony Bead Fish – This pony bead fish is perfect for religious settings, like Sunday School or VBS, or as an ocean-themed craft. It's simple and fun!
2. Egg Carton Jellyfish – Pony beads become colorful tentacles with this clever jellyfish craft. Use an entire egg carton to make an ocean of jellyfish.
3. Melted Bead Accessories – Did you know that you can melt pony beads to create colorful hair accessories and more? Give it a try!
4. Pony Bead Friendship Bracelet – Create pony bead bracelets for yourself and all your friends. They'll be proud to show off these friendship bracelets.
5. Plastic Bead Bowl – This tutorial uses Perler beads to make a bowl or dish, but you can do something similar with pony beads.
6. Beaded Pumpkin Jack-o-lantern Ornaments – These cute jack-o-lanterns have so much personality. They're fun to make and a great way to develop fine motor skills.
7. Snow White Crown – Silver pipe cleaners and clear pony beads come together to make an elegant crown, suitable for Snow White or your little princess.
8. Cardboard Tube Beaded Butterfly – Transform cardboard tubes into adorable butterflies for spring. You can turn them into magnets, attach a pin and wear them, or tie them to fishing line and hang them from the ceiling.
9. Penguin Bead Pet – Make adorable penguins using pony beads. Hang them from a backpack or use them as a zipper pull!
10. Beaded Phone Number Bracelet – Use number beads to make phone number bracelets for kids to wear at amusement parks or other locations where you might get separated. It's a fun project and provides some peace of mind.
Don't miss the rest of the pony bead crafts. Or check out our many other craft collections. Pony beads aren't the only type of bead, of course. We have hundreds of bead crafts using other types of beads too!