The best thing about homemade ornaments is pulling them out each year and remembering the special time spent crafting together. Here at Fun Family Crafts, we've gathered nearly 300 of the best ornament projects for kids. Choose one and create something that you'll treasure for years to come.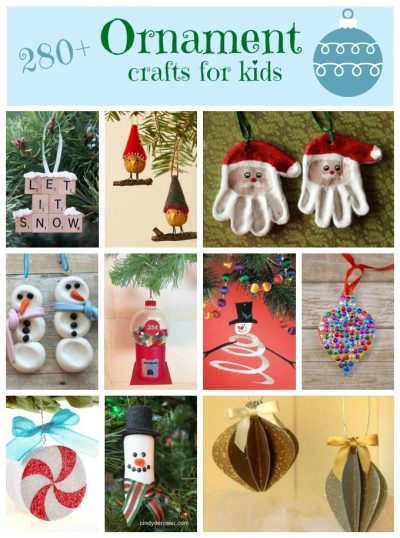 Ornament Crafts for Kids
Here are ten of our favorite ornament crafts for kids. You can find all 280+ ornament crafts here.
1. Almond Bird Ornament – Turn an almond into an adorable bird ornament. This project is a fun way to bring a touch of nature to your Christmas tree.
2. Clay Thumbprint Snowman Ornament – These darling snowmen are special because they are made with a child's thumbprint. Make a set for the whole family!
3. 'Let It Snow' Scrabble Tile Ornament – Use Scrabble tiles to spell out 'Let it Snow' or any other holiday message. Snow texture paint makes it even more festive.
4. Gumball Machine Ornament – An empty spool and a plain glass ornament make an adorable gumball machine ornament. It's easy to do and adds color and whimsy to your Christmas tree.
5. Sequin Ornament – This simple ornament has plenty of wow-factor. It looks amazing reflecting light on a lit Christmas tree.
6. Cork Snowman – This cute snowman started out as an old cork. This project really is trash-to-treasure!
7. Peppermint Peek-a-boo Ornament – This glittery peppermint ornament opens to reveal a Christmas photo. Make a new ornament each year for a tree full of memories!
8. Spiral Snowman Ornament – Have you ever made a spiral whirligig? This twist turns them into cute snowmen ornaments to hang on the Christmas tree.
9. Handprint Santa Ornament – This salt dough ornament is a fun twist on painted handprint Santas. It's a wonderful way to preserve a child's handprint and makes a great gift for a grandparent or other special person.
10. Glittery Paper Ornaments – These sparkly ornaments look so pretty on the Christmas tree. You can make them with any glittered, patterned or plain paper you have on hand.
Be sure to check out all 280+ Christmas ornament tutorials. We have ornament crafts for all ages and skill levels. Happy crafting!