Do you love Minions? Who doesn't?! The world first met these adorable characters in 'Despicable Me' and now they have their own movie. We have over two dozen Minion crafts to keep the kids entertained long after the movie ends. You'll find something for every age and skill level!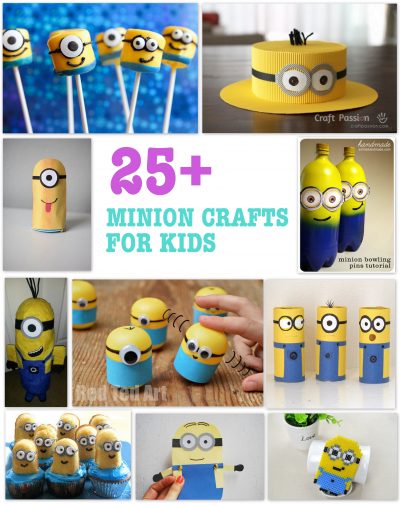 Minion Crafts
Below are 10 of our favorite Minion crafts, but you can browse all 25+ of them here.
1. Minion Bowling – Don't recycle those empty 2-liter bottles just yet! Make them into Minion bowling pins, then have fun knocking them down. What a great way to combine crafting and active play.
2. Minion Weebles – These adorable Minions will wobble, but they won't fall down. They're made from empty Kindersurprise capsules and take only minutes to make.
3. Perler Bead Minion – This Perler bead Minion couldn't be cuter! Don't worry if you don't have a large base. The tutorial shows how easy it is to make with the standard square base.
4. Minion Paper Doll –  This Minion paper doll is so easy to make. Its moveable arms make it even more fun! It makes a great party decoration.
5. Minion Cupcakes – Turn Twinkies and Smarties into Minions that look as good as they taste! They're irresistible on cupcakes.
6. Cardboard Tube Minions – Combine cardboard tubes and construction paper to make the cutest Minions around! This craft is easy, inexpensive and lots of fun.
7. Marshmallow Minions – Transform marshmallows into Minions! These tasty treats are a lot of fun to make and so delicious. They're sure to be a hit.
8. Jumping Minion – This Minion craft jumps sky high! Make your own Minion and then challenge others to a jumping contest!
9. Minion Hat and Goggles – Dress up like your favorite Minion by following the directions to make your own hat and goggles. They're fun for movie night, themed parties, and Halloween.
10. Minion Pinata – Celebrate a birthday or other special event with a homemade Minion Pinata… also known as a Minata. Everyone will be so impressed! It's almost too cute to break open.