Remember the true meaning of Christmas with a Nativity craft to tell the story of Jesus' birth. We've gathered over 20 beautiful Nativity crafts, suitable for toddlers through teens. You'll want to display these meaningful crafts year after year.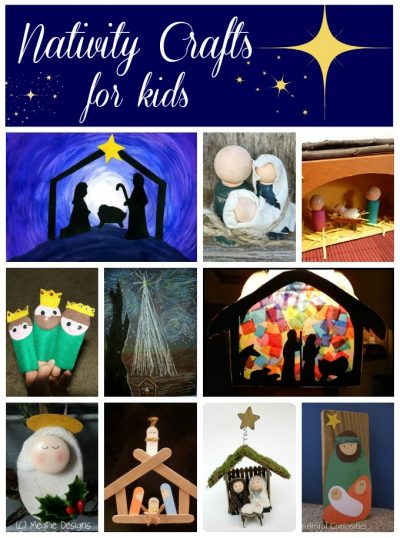 Nativity Crafts for Kids
Here are ten of our favorite Nativity Crafts for kids. You can see all the Nativity crafts here.
1. Nativity Silhouette – This stunning Nativity project requires just paint and paper. It's easy to do and really helps convey that Jesus is the reason for the season.
2. Holy Family Ornament – This simple ornament shows Mary, Joseph and Baby Jesus. It's makes a meaningful (yet inexpensive) Christmas gift for someone special.
3. Tissue Box Nativity – Create a beautiful Nativity scene using a recycled tissue box. The best part is that the kids can play with this Nativity set after it is complete.
4. Craft Stick and Clay Pot Nativity – This adorable project starts with ordinary craft sticks and terra cotta pots. It's a sweet Christmas project to make with the whole family.
5. Starry Night in Bethlehem – This beautiful Nativity art is inspired by Van Gogh's 'Starry Night.' What a wonderful project to make and display during Christmas.
6. Nativity Block – This simple all-in-one Nativity craft is fun to make and easy to store. It's something the kids proudly display year after year.
7. Nativity Suncatcher – This Nativity suncatcher is as fun to make as it is beautiful. Each is unique and so meaningful.
8. Popsicle Stick Nativity – Create a simple Christmas Nativity scene using popsicle sticks. Add magnets to the back to display it on the fridge or glue extra popsicle sticks onto the back to prop it upright on the mantel.
9. Baby Jesus Ornament – This little ornament is simple enough for even the youngest of crafters. Just a few wood pieces, some gauze, then paint, and you have a keepsake to treasure.
10. Nativity Finger Puppets – Follow the simple tutorial to make a complete set of Nativity Finger Puppets, including Joseph, Mary, Baby Jesus, the angel and the three wise men. They can be sewn or glued.
Be sure to check out all of the Nativity crafts for kids at Fun Family Crafts. Wishing you all a very Merry Christmas!